Local Talent Spotlight: Emma Smiley, Staff Accountant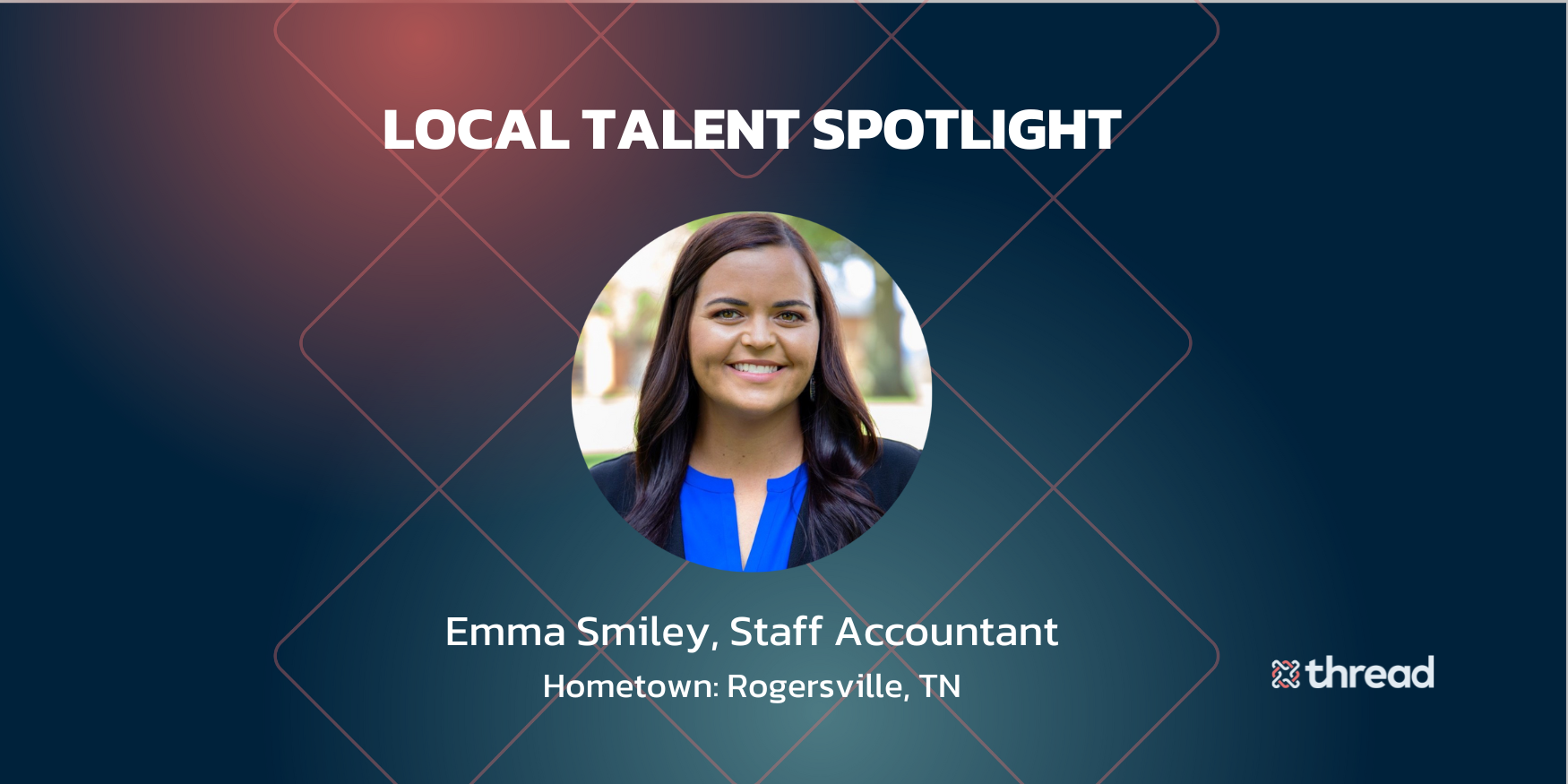 A recent blog post titled "A Reinvigorated Bank on Main Street Provides Career Opportunities for Young Professionals to Thrive in Their Hometown" talked about how Thread Bank's investments in leadership, talent, and technology have benefitted the local community and have created employment opportunities for accomplished local young adults to grow their careers.

The infusion of $47 million of new capital and a new strategy into what was once a struggling community bank has resulted in a cutting-edge, modern business where several of Rogersville's most talented youth can come home, grow their career, and contribute to the community they grew up in.

The Local Talent Spotlight series highlights the Thread Bank team members who grew up in Rogersville, TN and have either stayed or returned home to grow their careers with Thread.

Below, hear from Emma Smiley, Staff Accountant and Rogersville native, in her own words, what attracted her to and excites her about Thread Bank.
Why did you decide to live and work in Rogersville?

I lived in Rogersville my entire life up until I went off to college. After completing my undergraduate degree and my MBA, I realized how much I missed my family and the small-town atmosphere in Rogersville. I am very proud of this town and the way people conduct business here and knew I wanted to move back and be a part of that.
What attracted you to Thread Bank?
I worked at Civis Bank (now Thread) one summer as a teller while in college. While finishing my MBA, I contacted the former CEO and told him if there were ever any job positions open to please consider me. That was the same time Civis was preparing to make the move to Thread. I met with Chris Black (Chief Executive Officer & President at Thread Bank and Thread Bancorp, Inc.) and team and got to know them as banking professionals, but I also got to know their ethics and the way they conducted business. This is what ultimately brought me to Thread. I have so much pride and appreciation for the people of Rogersville and our small businesses. Both of my parents have been small business owners in Rogersville for many years so I wanted to be sure they truly cared about our town and the people in it. After talking with Chris and the team, I had all of the confidence in the world that the Thread team would take great care of our customers and our small businesses. Although Thread is quickly growing with new faces, each person cares immensely about our customers and doing things the right way. This is why I knew I wanted to be a part of this special team.
What excites you about working at Thread Bank?
What excites me most about Thread Bank is the growth and the commitment they made to the State of Tennessee and this town. Our small town doesn't see a lot of big job opportunities on a regular basis. I think it is amazing to see Thread hiring so many people from our area and giving them the opportunity to grow their careers at a fast pace.
Describe Thread Bank in 5 Words.
Ethical. Committed. Passionate. Dependable. Innovative.